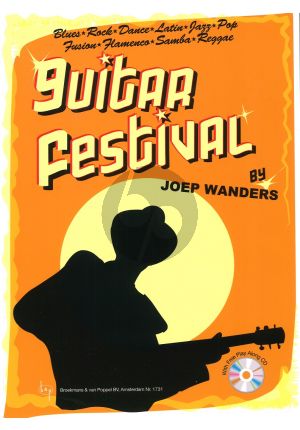 Guitar Festival
Guitar Solo
ISBN 713980
isbn 713980
Level: Grade 3
Theme: Light music
Instruments: Guitar Solo
with instruction / play-along CD
Audiofragment Spanish Buttterfly
In Guitar Festival you're the soloist, because you can play all 16 pieces along with the CD.
First listen to the complete version and than practise your own part. When you can play it without any mistakes or stops, play along with the track on the Cd.
For 5 faster pieces bonustracks are recorded on the Cd in a slower tempo for study purposes.
Contents
1. Catwalk 2. Carte Blanche 3. The Blues Connection 4. Shaken Not Stirred 5. Back Off . 6 Just a Soap 7. Spanish Butterfly 8. Puente 9. Small Talk 10.Drums & Bagpipes 11.Ole Bambo 12.Nostalgia 13.Peptalk 14.Tango Nuevo 15.Carifesta 16.Nocturnal
Grade 3
With instruction / play-along CD