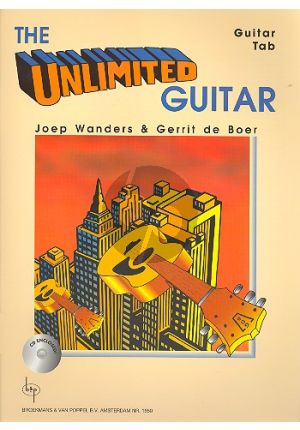 The Unlimited Guitar
Guitar Solo
ISBN 705937V
Additional information:
isbn: 705937V
Level: Grade 1-2
Theme: Light Music
with instruction/play-along CD
More information about The Unlimited Guitar
26 pieces with wellknown compositions such as
Home on the Range, Danny Boy, Turkey in the Straw, The Green Leaves of Summer
as well as brandnew pieces.
The styles are varied and familiar like rumba, blues, jazz, salsa and ragtime.  The last piece of the book is a latin-american duo.
To make the pieces as accessible as possible we have supplemented traditional notation with the
tablature system.
The CD is both instructive and "playing along" with.
Co-author of the album is Gerrit de Boer.
Grade 3-4